The Rio Olympics will bring plenty of stars from the women's game to the arena.
The Rio Olympics will bring plenty of stars from the women's game to the arena. The likes of Marta and Alex Morgan will certainly have high expectations pinned on them. But what of the players who might be integral to their teams, or those who are working to become exactly that?
Here are six players to keep an eye on throughout the games.
Deanne Rose (Canada)
Forward Deanne Rose jumped into the Canadian National Team relatively quickly, but at just 17 years of age, Rose has already pushed up to 14 international appearances with an impressive 9 starts, 3 goals and 3 assists.
Hardworking and versatile are the kind of gifts any coach would want, and with Rose's pace and goal sense, her whirlwind journey will continue to provide plenty of entertainment.
Instagram: @deannecynthia_
Erin Nayler (New Zealand)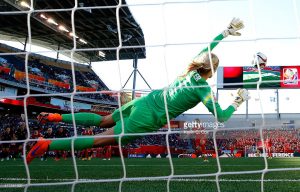 Women's football is certainly not short of great keepers, but Erin Nayler is something of a quiet achiever. A player who regularly keeps the Football Ferns in tight matches, Nayler's athleticism and control will be in demand come tournament time and she has a wealth of big game experience.
Twitter: @erinnayler1
https://www.youtube.com/watch?v=7DB9v1NqenE
Shuang Wang (China)
If forward Shuang Wang hasn't hit your list of players to keep an eye on yet, now would be the right time. Representing the U17 national team at 12 years of age is a tough trajectory to follow but the now 21 year old Wang has continued to impress. With China becoming more and more powerful in the women's game, Wang is seen as the bearer of many of their hopes.
Team USA and Abby Wambach have already met Wang, with the latter scoring and dashing hopes of a perfect send off for the American hero when this happened:
https://www.youtube.com/watch?v=DIDR6FThV1w
Nicole Regnier (Columbia)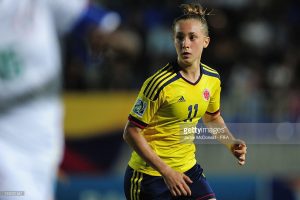 Something of a local social media phenomenon, 21 year old Colombian forward Nicole Regnier plays her club football with Rayo Vallecano in Spain's Primera División and is looking to be noticed by the world.
With only one senior appearance, Regnier will be looking to learn as much as possible from attacking counterpart Lady Andrade.
Twitter: @nicoleregnier11
Instagram: https://www.instagram.com/nicoleregnier11/?hl=en
Roxanne Barker (South Africa)
South Africa have a tough group for this Olympics and their defence will need to be solid. Step in goalkeeper Roxanne "Roxy" Barker.
Barker has an impressive background, attending Pepperdine University, drafted by the Portland Thorns in 2013 and has recently signed to play in the Dutch league for SC Heerenveen Vrouwen in 2016-2017.
Elin Rubensson (Sweden)
Elin Rubensson almost completely epitomises the role of utility player. Recently known as a midfielder, she easily converts to striker and defender. Given the small squads allowed at the Olympics, anyone with Rubensson's versatility will be in high demand.
https://www.instagram.com/p/BIawCRjBuu2/
Twitter: @ElinRubensson
Instagram: https://www.instagram.com/erubensson/?hl=en
Copyright ©The Women's Game All rights reserved.