An AFL Champion, junior hockey and the W-League's very own 'Sister Act'. The upcoming season has all the ingredients for a very spicy summer. As always, there are an abundance of fantastic stories to follow and superstars to watch.
ELLIE BRUSH 
Brush (R) will switch red and black for Sky Blue this season - Image: Getty
After last season at the Western Sydney Wanderers and two seasons at the GWS Giants, Ellie Brush is finally experiencing the Harbour side of Sydney. 
She has plenty of W-League experience to offer Sydney FC with over 100 matches at hometown club Canberra United and last season at the Wanderers. 
Being able to play in midfield and defence, Brush is an asset with her versatility which we will undoubtedly see be the difference in Sydney's title defence. Her history in the AFLW indicates a fitness level higher than most. 
She has expressed her want to end her career on a high at Sydney FC as she helps the Sky Blues defend their W-League championship, an honour she hasn't held since 2015.
CLARE WHEELER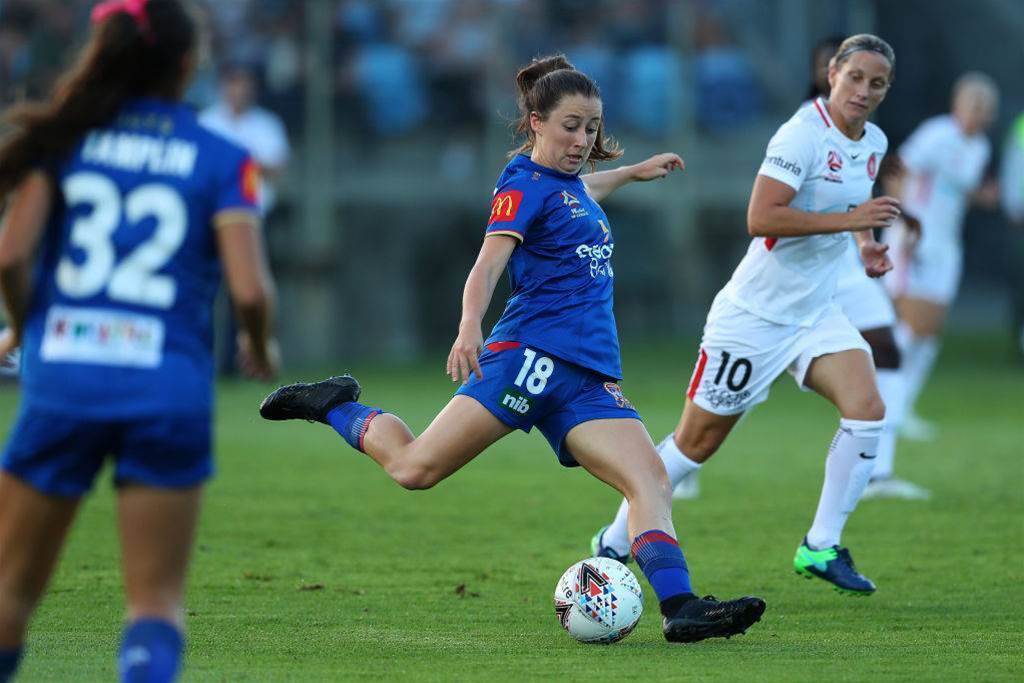 Clare Wheeler - Image: Getty
This year will be a coming of age season for Clare Wheeler at the Newcastle Jets 
She's no stranger to the W-League having made her debut at the age of 15 and approaching a half century of matches for the Jets. 
However, for the last few seasons, she's been under the watchful eye of Matildas stalwart Emily Van Egmond in midfield. Australia's number te has left to join Melbourne City which means Wheeler is going to have to step up to the plate like she's never done before. 
With the defence anchored by Gema Simon and an attack led by Larissa Crummer, it's up to Wheeler to show us what she's got in midfield to help the Jets soar.
AMBER BROOKS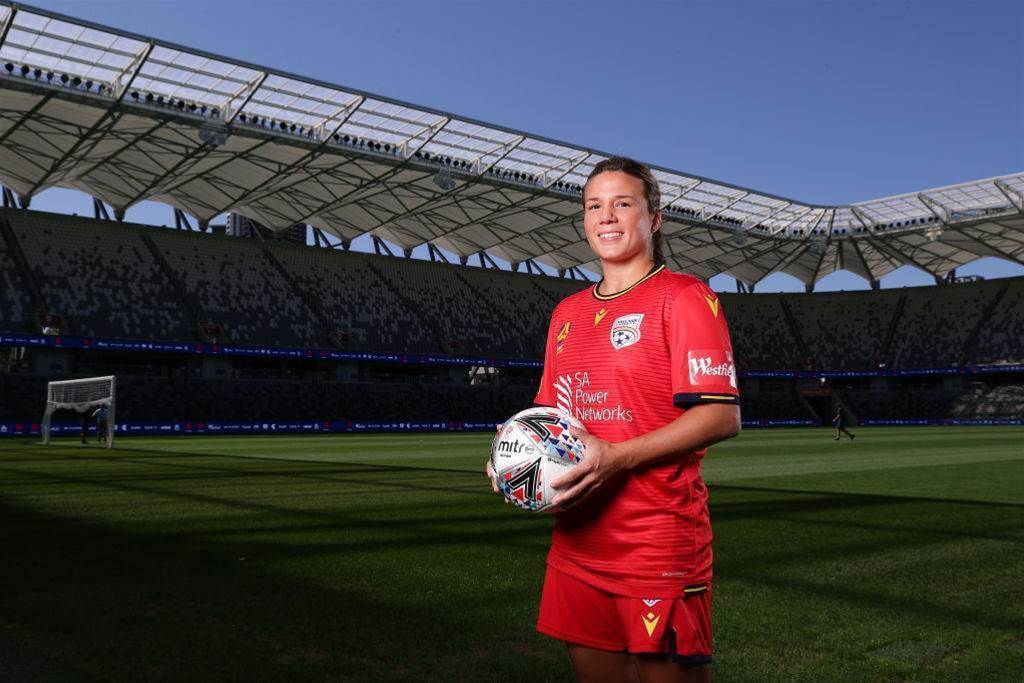 Amber Brooks - Image: Getty
The American defender takes on her second season at Adelaide United this year after Houston Dash's below par season, finishing third last. 
But don't let last season fool you. Brooks played every minute for Dash and had one of the highest successful clearances, tackles rates in the league.
Her footballing history will catch your eye too, having played for Bayern Munich and Portland Thorns in her stellar career.
It'll be a tough road for Adelaide this season after the departure of goal machine Veronica Latsko. But they say defence wins you titles, her exploits will be needed if Adelaide have a chance of making the W-League finals series for the first time in their history.
SAM STAAB 
You probably haven't heard about the 22-year old American defener the Wanderers announced last month. 
If her breakout season i the NWSL is anything to go by, we are in for a big year watching Sam Staab for Western Sydney. 
She played all 24 matches at centre-back for Washington Spirit earlier this year as they recorded a fifth place finished. She played every single minute of Washington's season and isn't afraird to get on the end of things in attack, scoring a goal and getting an assist. 
SPIRIT GOOOAAAALLLLLL! A look at the @SamStaab_ goal that put us ahead in the 59th minute!#SpiritFam // #WASvNJ pic.twitter.com/harxD03Egp

— Washington Spirit (@WashSpirit) April 14, 2019
She's already fostered a partnership with former Spirit and now Wanderers teammate Amy Harrison as Western Sydney begin a new chapter under Dean Heffernan. 
Staab will be flexing her defensive muscle when the comes up against bitter rivals Sydney FC in their derby at Bankwest Stadium in December.
SHAMIRAN AND LEENA KHAMIS 
Ok, we're going to break a rule here. For Canberra United, there are two players to watch out for this season, the Khamis Sisters. 
Leena, 33, has a storied career in the W-League with 40 goals, sitting seventh in the all time rankings. Shamiran on the other hand is very much still forging her path in the league. At 24, she joing Canberra having been between the sticks for Sydney FC and Western Sydney Wanderers. 
The Khamis sisters have played with and against each other in the W-League but are reunited in the Capital Territory.
Sister v sister!

When the sibling rivalry carries out onto the pitch. 😱

Thankfully for @Leena_Khamis, the striker has joined forces with @CanberraUnited and @Sham_Khamis this season. #WLeague Begins 14.11.19

Full story: https://t.co/9asTdsoSup
🎥 @FOXFOOTBALL pic.twitter.com/QwiXmYJNAN

— Westfield W-League (@WLeague) November 1, 2019
Both players will be key to arrest Canberra's decline since they won the W-League in 2017. They've failed to make the finals in the last two editions of the competition.
KYAH SIMON 
Kyah Simon - Image: Getty
A household name. 
Kyah Simon embodies everything we admire in professional footballers. Unbridled success at international and domestic level, a leader for hear team and strength in adversity. 
She was inches away from another World Cup but was cruelly halted by lingering injuries. 
She's back in blue at Melbourne City, a team where she's been successful before, and this time she has even more Matildas firepower to back her up. 
Emily Van Egmond, Steph Catley, Lydia Williams, Emma Checker and Ellie Carpenter line up alongside one of Australia's most treasured goal scorers. Simon's story this season will be worth following, just to see her push to be her best once again.
JENNA McCORMICK
Jenna Mccormick
To be fair, maybe a few people are talking about Jenna at the moment. But she truly is one to watch so we couldn't leave her off this list.
Only Jenna McCormick could say she's played a season in the W-League, win the AFLW and make her debut for the Matildas in the same year. 
McCormick has made the move to title contenders Melbourne Victory in a bid to realise her dream of representing her country on the biggest stage. She's already ticked that box, facing Chile in Sydney. 
Operating at centre-back last season with Brisbane Roar, she can also stake a claim for a spot in midfield at Melbourne Victory. 
At 25 years of age, she has plenty of football ahead of her, and we're sure we haven't seen the best of McCormic just yet. Prepare to watch her stop at nothing to keep her Matildas spot.
KAITLYN TORPEY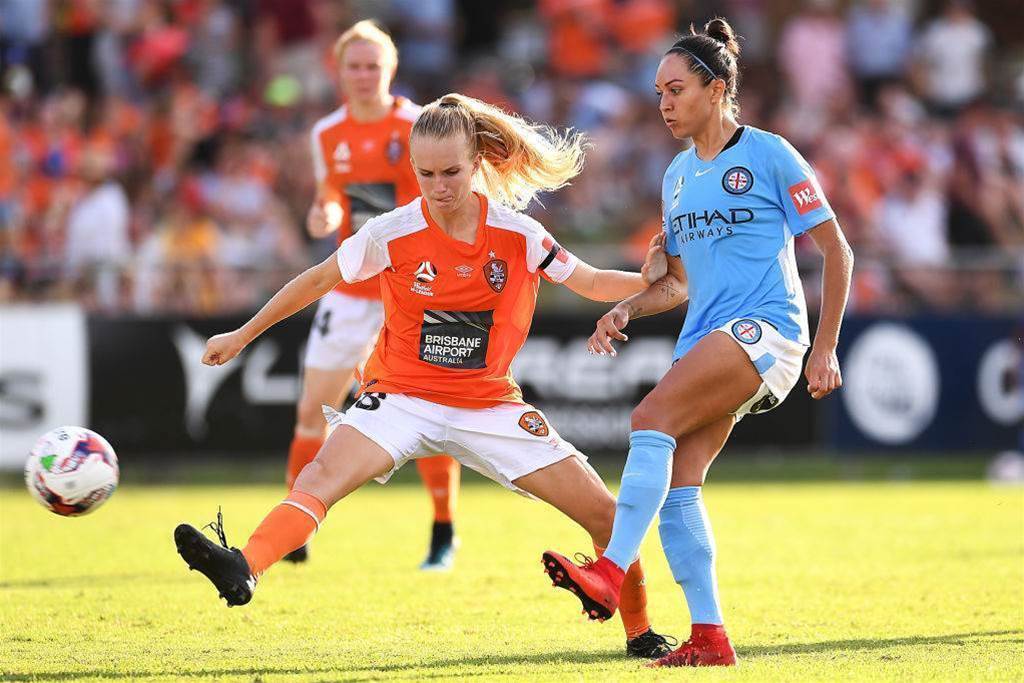 Kaitlyn Torpey (L) - Image: Getty
Torpey has an extraordinary path to her footballing career. Up until she was 13, she wasn't lacing up football boots, but instead was enjoying her time on the hockey court. 
Once she made the switch to football, she excelled as a centre-forward, scoring goals for fun at Olympic FC and Brisbane Roar QAS. 
Although when it came time to make the step up to professional soccer at Roar, Torpey's made central defence her home. With the departure of Jenna McCormick it'll be a big year for the 19-year old who steps into one of the most experienced W-League sides in history. 
She also represented Australia at the 2017 AFC U-19's Women's Chamionships. 
Brisbane Roar's roster is stacked with national team talent and her defensive partners include Clare Polkinghore, Mackenzie Arnold and NWSL favourite Carson Pickett.
ELIZA CAMPBELL 
Eliza Campbell - Image: Getty
Some players might tell you Perth Glory's Eliza Campbell was hard done by to not be included in the 2019 FIFA World Cup squad for Australia. 
Known for pulling off unbelievable stops in betweenn the sticks for Perth last season, Campbell will stop at nothing to earn a spot int he national team again. 
After making her debut for the Matildas in 2017 against China, Teagan Micah and Sarah Willacy have all had a bite of the cherry before her. 
Campbell continued her great form in the off-season leading the back line for Northern Tigers in the NSW NPL to the Grand Final. Despite losing to Sydney University, Campbell, 24, is poised to pounce this eason and impress Ante Milicic and indeed his successor after the Olympics. 
Copyright ©The Women's Game All rights reserved.