The inaugural women's NRL competition gets underway this weekend.
The Women's Game previews each team and the players who may possibly shine ahead of round one of the women's NRL competition.
The four team women's NRL competition gets underway this weekend and it has been strategically placed alongside NRL finals matches to ensure maximum exposure and good crowd numbers should ensue off the back of a successful standalone women's State of Origin match back in June at North Sydney Oval.
A rundown of each team's key match-ups ahead of this weekend's matches:
Sydney Roosters v New Zealand Warriors at ANZ Stadium:
One of the competition's early favourites, the Sydney Roosters have tried and tested talent at their disposal across the field and on their bench.
An all-star playing roster including respective women's state of origin captains in Maddie Studdon, Karina Brown; her Blues nemesis at origin level and off-field partner Vanessa Foliaki.
Other star players include new media star Ruan Sims (in doubt with injury for round one) and her Jillaroo teammates in Eliana Walton, Isabelle Kelly, Lavina O'Mealey and Zahara Temara.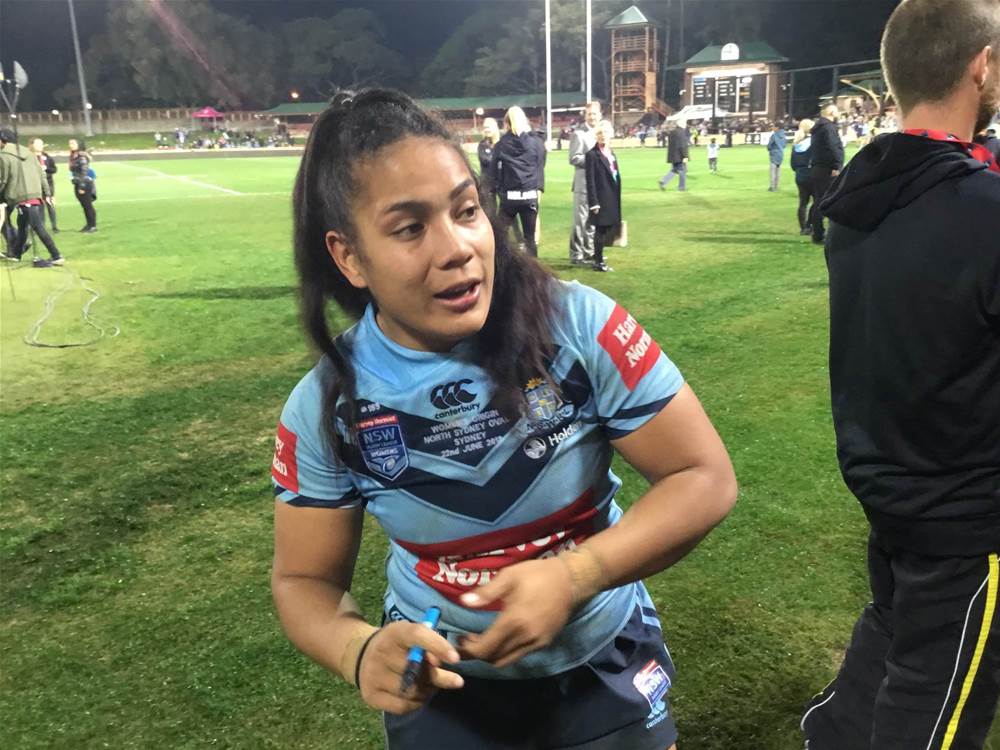 They'll be captained by key Jillaroo and NSW player Samiama Taufa-Kautai.    
Their round one opponents; the New Zealand Warriors have an all-international spine for round one in Apii Nicholls at fullback, captain Laura Mariu and Georgia Hale in the halves and Krystal Rota at hooker.
The Auckland based club decided to reward local talent and it will be interesting to see if this strategy is successful during their first season of the competition.
if they're to win, they'll need their spine to be at their best to feed their outside backs in centres Shontelle Woodman, fullback Apii Nicholls and their wingers Langi Veainu and Hilda Mariu. 
No matter the result, the Warriors will create a slice of history when 41-year-old former Kiwi Fern Lorina Papali' and her 19-year-old son Isaiah run out on the same ground for the Warriors in their respective matches on Saturday.   
Brisbane Broncos v St George Illawarra Dragons at Suncorp 
The Brisbane Broncos have a strong playing roster with 2017 Kiwi Fern and rugby league world cup player of the year Teuila Fotu-Moala on their books, along with player of the tournament runner-up in Ali Brigginshaw at five-eighth, who has been named as captain.
Her deputy is Queensland and Jillaroo hooker Brittany Breayley.
Perennial Jillaroo and Queensland star Steph Hancock's backing-up from origin, along with other Jillaroos in Meg Ward, Chelsea Baker.
Adding to that already imposing Broncos roster is Queensland based Rona Peters, who played for the Kiwi Ferns, before representing Queensland in this year's inaugural SOO match.
Maitua Feterika completes an exciting all-Kiwi back-row and roster.
Despite their impressive roster, the Broncos women won't have it all their own way though, against a youthful St George Illawarra side captained by Sam Bremner and containing the likes of her Jillaroo teammates Kezie Apps, Annette Brander and Talesha Quinn.
NSW origin debutants Holli Wheeler and Hannah Southwell make for a strong interchange bench.   
Other players to watch:
Outside of the shining lights from the last few seasons, there's plenty of talent waiting for their opportunity to shine at this level including:
Amelia Kuk - Brisbane Broncos
Recovering from a leg injury and missing out on a contract of the top-40 players in the country at the start of the season, the speedy Kuk bounced back in emphatic fashion, starring for Queensland City at the national championships and for Queensland in the inaugural women's State of Origin match. 
Kuk played well enough to make the Jillaroos merit team after that origin match.
Chloe Caldwell - Sydney Roosters
The former NSW and Australian representative has been playing senior women's rugby league for over a decade and at age-30 is still a relative youngster compared to her 41-year-old teammate in Kylie Hilder.
Caldwell brings plenty of wily experience to the Roosters roster and as a bench player, she could shine as a team leader during the team's campaign.
Victoria Latu - Sydney Roosters
This cross code powerhouse had the world at her feet in rugby union after being named with back-to-back awards as Rugby Australia's most valuable women's player at their national championship during the 2016 and '17 seasons.
Latu represented the Wallaroos in 2017 on their New Zealand tour before disappearing off the radar due to injury.
Now back playing league, watch out for her powerhouse running up-front, as she causes havoc in attack for the Roosters during this competition, as she offers plenty to possibly the best interchange bench in women's rugby league.
Teina Clark - St George Illawarra
The dual Jillaroo and Kiwi Ferns representative had the league world at her feet five years ago when an off-field indiscretion cost her dearly.
The Dragons were smart to include the former NSW Blue on their roster, as her organisational skills are second to none and she has a knack of making big plays in finals matches when it counts.
Jessica Sergis - St George Illawarra
The three try hero from NSW's successful 2017 women's interstate challenge team is back after overcoming injury and this time she's playing in the centres. 
 Expect the speedy back to be creating plenty of opportunity down the right flank in tandem with another speedster in her winger, New Zealand international - Honey Hireme who was top tryscorer at last years world cup tournament.  
Their battle with Broncos duo Kuk and Julia Robinson - who debuted in senior football at nationals with the National Defence Force team, could decide the fate of this match.   
Tanika-Jazz Noble - New Zealand Warriors
The one time Kiwi Fern has made every post a winner since choosing to play for Auckland at their national women's championships earlier this year.
Noble will be starting at second row for the Warriors and should be a handful for the Broncos in attack and defence. 
What were they thinking?
No Rebecca Young?
The heart and soul of our indigenous team over the last few years and good enough to represent Australia at last year's World Cup and NSW in this season's inaugural women's Origin match, as well as a top-40 player contract, but not deemed worthy of an NRL women's contract?
Sources told The Women's Game, Young's considered too old by the four clubs being aged-37, despite the fact there are older players in the competition.
The dual league-union international would've brought plenty of on-field experience to any of the four sides, but even of more value would have been her off-field value to the younger and lesser experienced players, who would've excelled under the Indigenous All-Stars leader's expert tutelage.
Copyright ©The Women's Game All rights reserved.