If you love your job, you never have to go to work. It's certainly the case for Bulleen Lions and Melbourne Victory winger Lia Privitelli who is devoted to juggling teaching with her football.
Privitelli is in her second year teaching Health and Physical Education at Epping Secondary College, in Melbourne's Northern suburbs.
The 23-year-old also just finished her second W-League season with the Big V scoring two goals from 11 appearances.
Speaking to The Women's Game, Privitelli had a pleasant surprise in Round 1 of the W-League season as Victory downed Canberra United 2-1 at Epping Stadium.
"Epping's one of our home grounds and I had a bunch of kids just turn up which I found really embarrassing actually, I'm not sure why," Privitelli joked.
"They all thought it was pretty cool, so I got to have some pretty funny banter with them the next day when I was back at work.
Privitelli in action in Round 1
"I mean, I never bring it up with them. Some of them did know, some of them didn't, and the ones who do know think it's pretty cool.
"I always knew I wanted to be a teacher. One, because you get really good holidays and two, it fits around soccer which is awesome. If I ever decide to have a family then I'm there when my kids are at home.
"It's awesome and so rewarding. Staff is fantastic, kids come from a different range of backgrounds and I've absolutely loved it.
"I'm teaching years 7, 8 and 9. I also have a Year 12 class which is tough because they look a lot older than me."
Privitelli has enjoyed her time in the W-League so far, but was realistic about any hopes of entering the NWSL.
However she said she would certainly take the opportunity if it arose.
"I would love to go to the US… I'm just not sure, a lot of girls go in their early 20s and I'm turning 24 in June," she said.
"I don't want to say I've missed the boat, but I've got a career that I absolutely love here. I love being able to balance football and teaching as well.
"If the opportunity came up, I think I would find it very hard to say no, so you would have to go."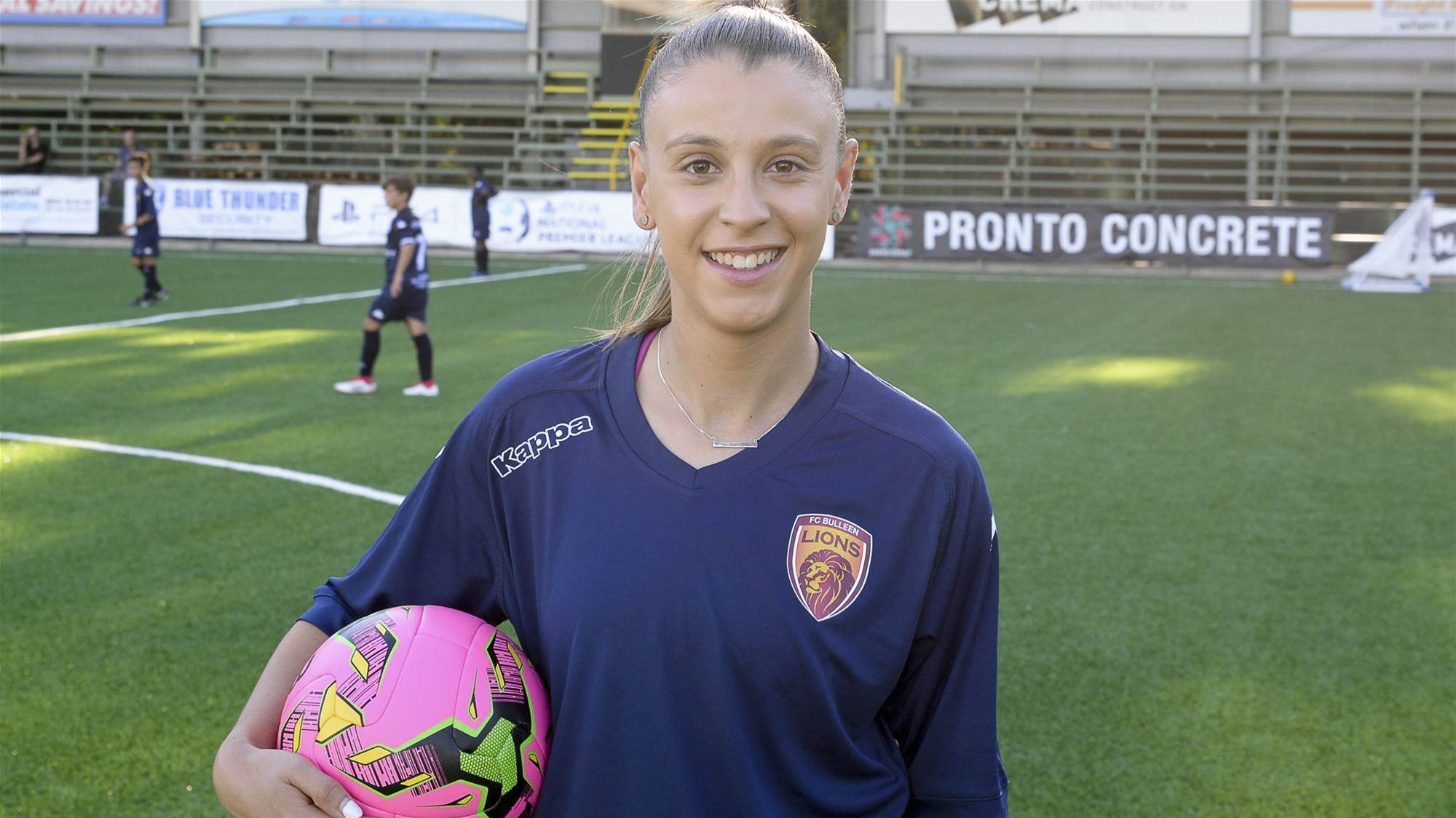 Privitelli at Bullen's home ground, David Barro Stadium and Veneto Club. By Sam Anfield Photography
Privitelli is of Italian descent, however did not grow up with a football background with her two siblings.
She first started playing for Doncaster Rovers before joining Senior NTC (National Training Centre).
The 23-year-old has been with Bulleen for the past seven years and is back for the 2018 WNPL, the Lions drew 1-1 to Box Hill United on the weekend, but Privitelli is currently being rested.
The winger saw Bulleen as a big family club and a home away from home.
"I used to just play with all the boys in Primary School, I thought 'this round ball is kind of cool'," Privitelli said.
"One day I came home and I told my mum 'I want to play' and she was like 'nah, I think you should take up dancing'.
"I said 'no, I'm not much of a dancer'. I had to try and convince her for two years to let me play and then it went from there.
"I was the only soccer player in my family. Now I have little cousins that play, but it just came from nowhere.