Aussie footballers are highlight-machines, but sometimes these amazing moments don't show up on the stat sheet. So, in a new segment, resident football-expert Kristin Shaffer counts down the three best goals, moments and performances each week from Matildas and beyond...
THREE BEST GOALS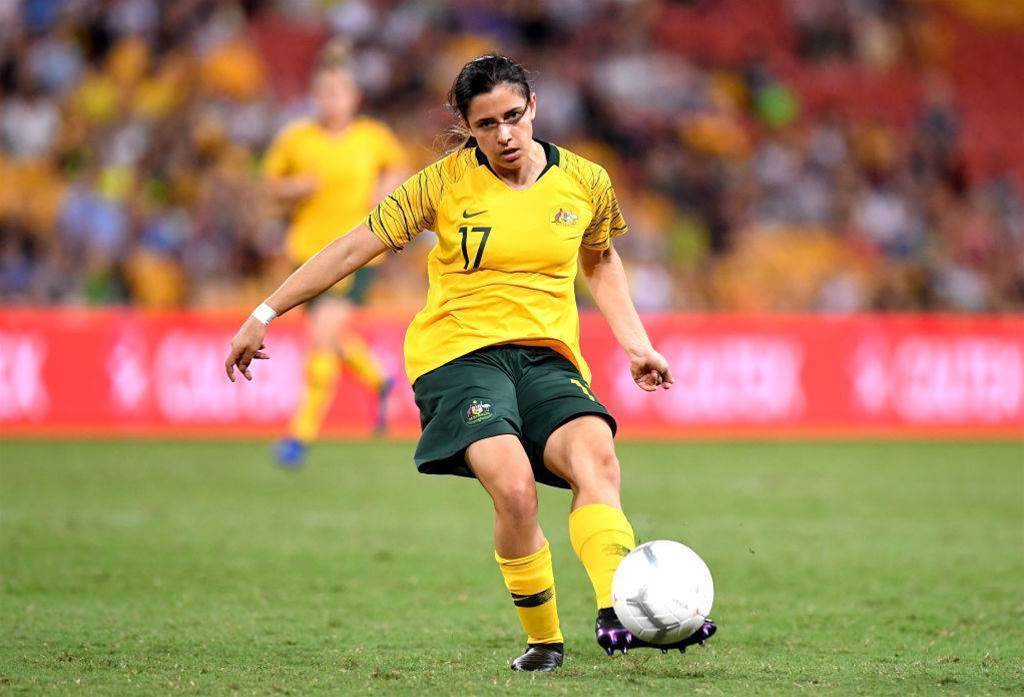 3. Hayley Taylor-Young's late winning goal
The ACT NPL Women's League is wrapping up soon and the Round 17 games had qualification for the finals on the line.
Canberra United Academy was down 1-0 for the majority of the game and it seemed their season would be over. However, an equalizing goal in the 86th minute gave the team hope.
Great team passing eventually found Taylor-Young sneaking in behind the defense. She carried the ball into the box and was able to slip the ball into the lower left side of the goal. It gave her team the win and secured their place in the finals.
NPLW FT | 2-1 |
Full-time! They trailed for 86 minutes, before late goals to Tara Cannon and Hayley Taylor-Young stole the win for the @CanberraUnited Academy, who also booked their spot in the finals!#NPLWCF pic.twitter.com/qh8kPv3rp8

— NPL Capital Football (@officialNPLCF) August 10, 2019
2. Hayley Raso forcing the own goal
Technically Hayley Raso did not score this goal, but there is no doubt her presence in front of the net and even her touch on the ball ensured the ball crossed over the goal line.
Raso only played 45 minutes in this game, but she caused enough problems in front of the North Carolina Courage's net to feel like she was there for 90 minutes.
 A ball was sent into the box where Raso was double teamed, but still able to get a quality touch on the ball that was kicked toward goal.
One of her marks blocked Raso's shot but it bounced onto the other defender who knocked it into the goal. It may have gone down as an own goal on the stat sheet, but Raso and the Thorns celebrated like it was hers.
We pull ahead! #BAONPDX #PORvNC pic.twitter.com/AwJvNRAPlc

— Portland Thorns FC (@ThornsFC) August 11, 2019
1. Alex Chidiac's quick goal
Alex Chidiac entered the pitch at the start of the second half for Atletico de Madrid Femenino and she wasted no time in showing why she deserves to be there.
Just ten minutes went by for Chidiac to score and give her team the 5-0 scoreline. The initial shot the goalkeeper saved but Chidiac followed the ball and knocked it in.
⏱ 56' | 5-0 | ⚽ Goool de @chidiac10. La australiana se aprovechó de un rechace de la guardameta visitante para marcar el quinto.#AúpaAtleti

— At. Madrid Femenino (@AtletiFemenino) August 7, 2019
THREE BEST MOMENTS
3. Matildas' competitive battles
Many of the Aussies playing overseas are teammates whether it be for the Australian National Team or on their W-League squad.
But one thing is for certain when they line up against each other they are opponents and treat each other as such.
The first game of the week showcased the rivalry between the Portland Thorns and Reign FC. The matchup is known to have harsh fouls and tough tackles and the Steph Catley vs Hayley Raso battle was no exception.
They went toe-to-toe many times and played physical. Neither one was ever trying to harm one another or got out of control, it was simply two competitors battling it out.
The rough play did catch up to Catley who was issued a yellow card in the 31st minute when Raso had beat her to a ball. Catley tried to get around Raso but used a little too much force for the referee's liking and booked the defender.
The Aussies may play a little bit tougher when they face each other and Catley's yellow card, her only one this season, might just prove that.
31' Sonnett pings a perfect ball out to Raso, who ends up getting fouled by her national team teammate Steph Catley. Catley gets a yellow. #BAONPDX #NWSL #RFCvPOR

— Stumptown Footy (@StumptownFooty) August 8, 2019
2. Hayley Raso's impact off the pitch
Sports are so much more than what goes on in the game. Sports have so much power to bring people together and this week Raso demonstrated how important that is to her.
She has been having an unbelievable NWSL season and she has not allowed that fact to change her focus on helping others.
Earlier this year, Raso visited a hospital in Portland where she met Rohen and they had an instant connection. Not limiting to just the one visit Raso invited him out to a game and spent time with him.
If you're not a fan of how she plays on the field then her actions off the field might just convince you otherwise.
Rohen & Raso 🥰

Hayley met this inspiring 8-year-old at a hospital visit in July, and they instantly bonded, so she invited him to come check out a match a Providence Park. Our community = everything. #BAONPDX pic.twitter.com/933lNtz8rZ
1.Sam Kerr named NWSL Player of the Week
Another week another award for the Aussie forward. Not only did her goal grant her Goal of the Week, but her overall performance last week had her named Player of the Week for the league.
This is the fifth time this season Kerr has earned this award making her just the second player in NWSL history to earn five in a single season.
A ⭐️⭐️⭐️⭐️⭐️ performance @samkerr1 win her FIFTH @NWSL Player of the Week honor this season. #MKOT pic.twitter.com/bXA0xsjQQF

— Chicago Red Stars (@chiredstarsPR) August 6, 2019
THREE BEST PERFORMANCES
3. Claire Polkinghorne
Known for her bruising defense, Polkinghorne, helped secure the shutout for the Houston Dash when they faced the Orlando Pride.
In the match, the Pride was limited to just three shots on frame and much of that was to the 90 minute performance from Polkinghorne.
Not only did she hold her own on defense she even got off one of the Dash's 12 shots. After looking at the InStat index Polkinghorne was rated as the third best player of the game.
ORL vs HOU - inStat Top Rated

1. Kealia Ohai (HOU)
2. Jane Campbell (HOU)
3. Clare Polkinghorne (HOU)
4. Rachel Daly (HOU)
5. Amber Brooks (HOU)

Bottom Rated (minimum 30 minutes played)

1. Alanna Kennedy (ORL)
2. Julie King (ORL)
3. Joanna Boyles (ORL)

— Chris Henderson (@chris_awk) August 12, 2019
2. Steph Catley
If you watch Catley play you will notice she is wearing a cast on her right hand since she is still healing her broken hand. Despite the injury, Catley is still going in for tackles and even having successful throw-ins.
She is a key player for the Reign who are riddled with injuries, but still fighting for a playoff spot. The Reign's lone goal of the week was a team buildup goal that had Catley playing the through ball to her teammate who sent the ball into the box for the eventual goal.
Catley is the only Aussie to play in two games this week in the NWSL and play a full 90 minutes in each game.
The Reign need her on the pitch and she has the skill mixed with the stamina to be the player they can rely on.
1.Hayley Raso
Raso was a player who made herself known in both of the Portland Thorns' games this week. She was all over the pitch terrorizing defenses and getting behind backlines.
The second game had Raso only play 45 minutes, but she was involved with both of the team's goals and was close to netting a third goal for the Thorns.
Raso is a force to be known when opponents are scouting Portland, the NWSL's top team
Mid-week mood 🌹 pic.twitter.com/vRy6eiaBBV

— Hayley Raso (@HayleyRaso) August 7, 2019
Copyright ©The Women's Game All rights reserved.