A season of two halves is the best way to describe the 2017/18 campaign for Perth Glory.
Despotovski has also moved to strengthen the teams defence with Matildas goalkeeper Eliza Campbell making the move west. In addition, Chicago Red Stars centre back Katie Naughton has been signed and she should form a solid partnership with the always reliable Kim Carroll at the heart of the back four.
Chicago have also supplied Nikki Stanton and the returning Alyssa Mautz, and these two will be major elements of the teams engine room.
THE STRENGTH
Goals were not a problem last season, and with Kerr pulling on the purple shirt again and American goal machine Hill returning to the squad, Glory will have some serious firepower at their disposal.
In addition to these two, Glory have also secured the services of exciting Young Matildas midfielder Jacynta Galabadaarachchi who should add even more attacking power to the team.
If these three can click as a unit, then Perth will be one of the most formidable attacking teams in the league, and they could score even more than the 25 goals they managed in season 10.
THE CHALLENGE
Glory will be hoping to keep their star players fit, as strength in depth may be their biggest challenge.
The bulk of the players outside of what may be considered a starting 11, are very young and inexperienced in the W-League. If Kerr or any of the American imports are to be out for any length of time then the young players will need to adapt quickly to the demands of W-League football.
Glory will also have to improve on their defence if they are to mount a serious challenge for the title, and the signing of Matildas goalkeeper Eliza Campbell will certainly make a difference in that area, as will the pairing of Naughton with ex Matilda Kim Carroll.
KEY PLAYERS
Sam Kerr (Forward)
Taken by Rachel Bach (@bythewhiteline)
A genuine superstar, and a player that any team in the world would love to have in their ranks. Kerr will once again be the focal point for Glory. The 25-year-old marquee player would love nothing more than to win a championship for her home team, and she will be doing everything she can to make this a reality.
Rachel Hill (Forward)
Taken by Ben Southall (@bsouthallau)
Having the young American come back for another season is a major boost for Glory. Her pace, finishing skills and ability to provide goals for her strike partner mean that no defence can afford to switch off when she is around.
Kim Carroll (Defender)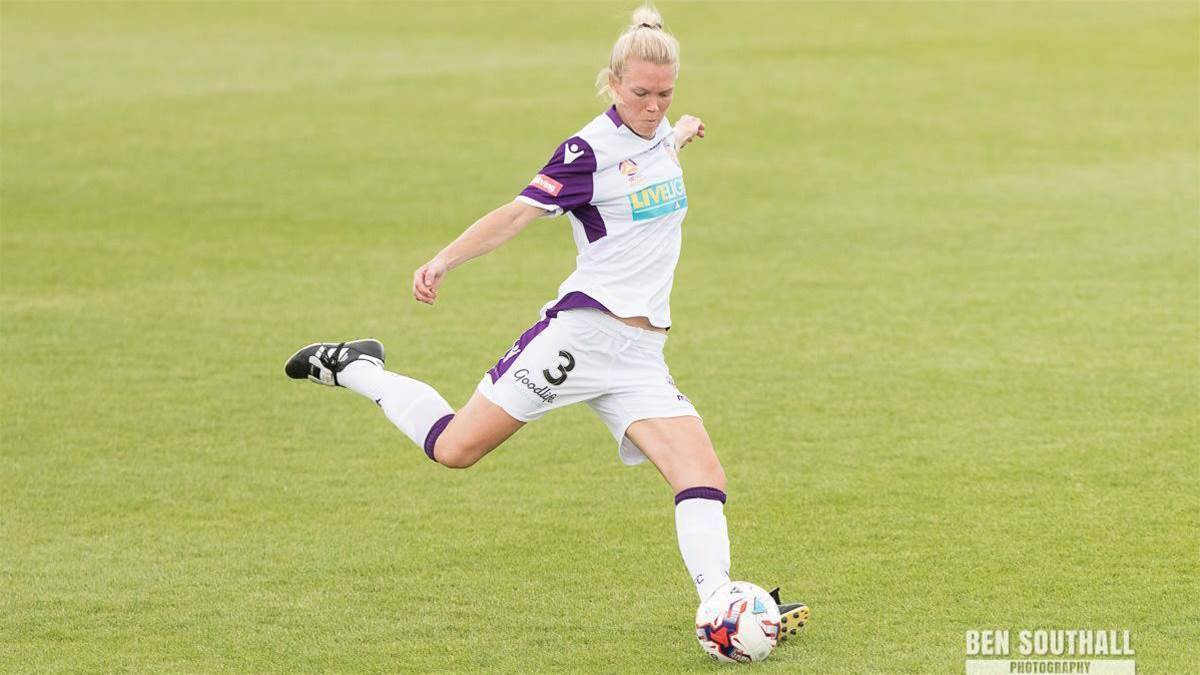 Taken by Ben Southall (@bsouthallau)
Glory's most experienced player may turn out to be one of its most influential, as she will be an invaluable mentor for the younger players in the squad. Her cool demeanour will be invaluable in the tight games, and her partnership in the heart of the defence with Katie Naughton could be as important as the Kerr/Hill combo at the other end of the pitch
One to watch: Young guns
Coach Bobby Despotovski is aware of the youth and inexperience of some of his squad, but is equally excited by their talents and has singled out 17-year-old Jacynta Galabadaarachchi and Lexi Moreno, and 16-year-old Leticia McKenna as ones to watch.
"I think Jacynta is going to be a player to watch, (she's an) exciting player, very tricky, can score goals" he said.
"But I'm really really looking forward to seeing Leiticia and Lexie playing this year as young players. (They are) fantastic footballers, Lexi is in great shape and Leticia is going to be some player" he added.
SQUAD
Morgan AQUINO (GK), Eliza CAMPBELL (GK), Kim CARROLL, Sarah CARROLL, Jacynta GALABADAARACHCHI, Grace HENRY, Rachel HILL (Orlando Pride, USA), Sam KERR (c), Alyssa, MAUTZ (Chicago RedcStars, USA), Shannon MAY, Leticia McKENNA, Abbey MEAKINS, Lexie MORENO, Katie NAUGHTON (Chicago Red Stars, USA), Natasha RIGBY, Nikki STANTON (Chicago Red Stars, USA), Caitlin DOEGLAS and Jenna ONIONS
Copyright ©The Women's Game All rights reserved.