In this in-depth tactical report, our expert Matildas analyst, Chor Lai, runs the ruler over the Matildas recent two-game Chile series, to find out exactly how the squad is operating heading into the Olympic qualifiers.
The Matildas' first games since the recent World Cup offered the opportunity to integrate new players into the setup, as well as a chance to see developments in the team's playing style under Ante Milicic.
One of Matildas' shortcomings at the World Cup was their predictability in attack. As Chile didn't offer much of an attacking threat in these two games, we saw a few different approaches towards addressing this issue.
Rotations
At the World Cup, the Matildas focused on building from the back and playing patiently through the thirds. This gave opponents time to settle into their defensive block, and we saw how the Matildas struggled to break them down.
Similar to Norway at the World Cup, Chile's midfield and defensive lines generally stayed close together to reduce the Matildas passing options as they attempted to build through the thirds. The Matildas addressed this with some well-rehearsed rotations, shown below (Game 1).
Midfield rotation
(1)       Chile midfield drops deep to protect their defenders.
(2)       Chloe Logarzo drops into a deeper position to receive possession, while Aivi Luik pushes on.
Wing rotation
(3)       Ball-side wide player (Caitlin Foord) moves inside into half-space.
(4)       Ball-side fullback (Steph Catley) moves high and wide.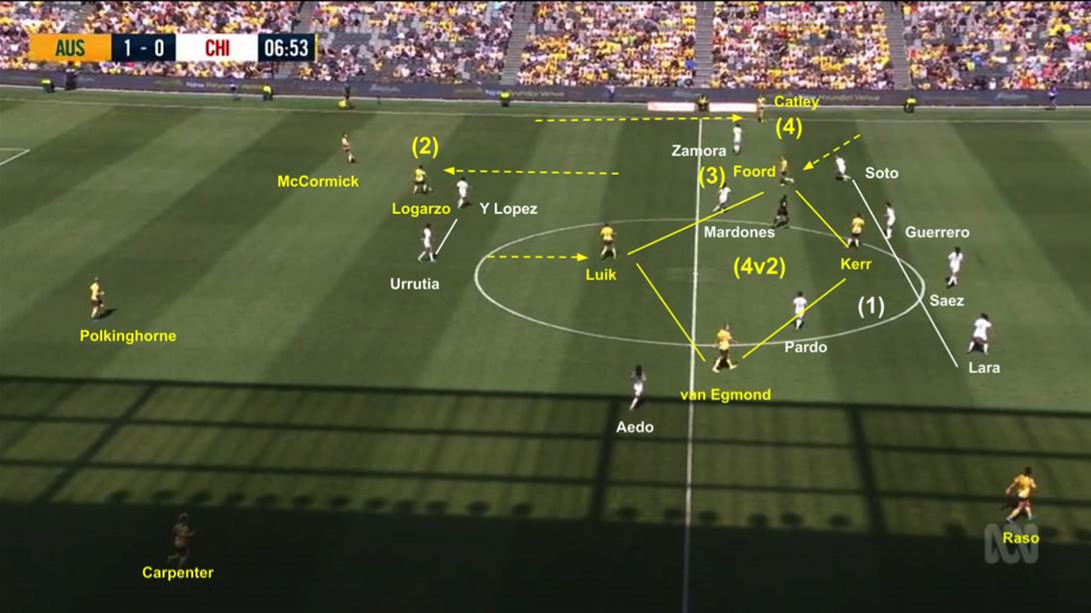 These rotations combined to create a 4v2 overload in the central zone, providing Sam Kerr with more support. In contrast, at the World Cup the wide players tended to stay wider, leaving Kerr isolated.
Indeed, it was this wing rotation which led to both Australian goals in Game 1. For the first goal:
(5)       Ellie Carpenter overlaps, preventing Chile leftback Francisca Lara from following Hayley Raso's run.
(6)       Raso's outside-in run takes her between the lines to receive Clare Polkinghorne's pass.
(7)       Chile midfielders Daniela Pardo and Francisca Mardones are forced to foul Raso. The free kick is finished by Kerr for 1-0.
Midfield - possession vs transition
Australia's midfield approach was noticeably different in the two games. In Game 1, Luik and Emily van Egmond focused on controlled possession. In Game 2, Tameka Yallop and Amy Harrison offered a more mobile midfield combination focused on transitions.
A recurring pressing cue was how the Matildas encouraged a square pass from Chile's wide players. The only goal of Game 2 came from this type of pressing situation; a similar situation is shown below.
(8)       Emily Gielnik presses the ball carrier, while all other options are blocked, encouraging a predictable square pass.
(9)       Harrison leaves square passing option available, intercepts the pass, and creates chance for Kerr.
This focus on a transition style better suits Kerr, Foord, Gielnik, and Raso by allowing them to use their pace and athleticism to exploit the space when opponents are open in their attacking shape. Against Chile here and at the World Cup, Australia's brightest attacking moments generally came on the counterattack.
Logarzo energy
The key player (and one constant in midfield) in both games was Logarzo. Her energy facilitated Australia's transitions, and her late attacking runs from midfield meant Foord could move inside to support Kerr.
In Game 1, this led to Kerr's second goal:
(10)     Catley not in a position to provide an overlapping run.
(11)     Logarzo makes an inside-out run, and creates confusion in the Chile defence.
(12)     Foord has time to drop into the half-space.
(13)     Jenna McCormick's pass finds Foord, who releases Kerr with a ball over the top.
And again in Game 2:
(14)     Foord moves inside to provide possible combination with Kerr and 2v2 with Chile centrebacks.
(15)     Logarzo makes a late run for ball in behind to balance Foord's movement inside.
(16)     McCormick now has multiple forward passing options:
(A)       short switch pass to Yallop
(B)       chipped ball in behind for Logarzo
(C)       wide pass to Catley
In the end, some encouraging signs for the Matildas, especially considering the minimal training and match time together since the World Cup. We'll see if the Matildas can indeed kick on, especially against stronger opponents, but there are reasons to be cautiously optimistic.
The author is an experienced football coach, having coached over 200 games at development and senior level. He has completed the FFA/AFC B Licence and runs the Facebook page "Tacticology".
Copyright ©The Women's Game All rights reserved.