Socceroo legend Mark Bresciano, Matilda star Sonia Gegenhuber and former football journalist Andrew Dettre were officially inducted into the Football Federation Australia (FFA) Hall of Fame.
The trio were honoured at the Dolan Warren Awards at The Star on Monday night for "sustained and meritorious contribution to Australian football".
FFA CEO David Gallop AM believes that the three inductees this year are more than worthy recipients of the honour.
"Since 1999 we have inducted 240 outstanding individuals who have made significant contributions to football in Australia.
"Tonight we welcome the latest three inductees who join a very respected group of people that has shaped our sport through the ages.
"Sonia Gegenbuber's exploits as player are well known to all within the Women's game and since retiring she has continued to give back to the game in many ways.
"Mark Bresciano's contribution to the Socceroos and football in Australia is immeasurable. Not only did he play at three FIFA World Cup's, he helped promote the profile of Australian footballers around the world throughout his playing career.
"Last, but by no means least, is Andrew Dettre who was a true pioneer of football media in Australia. A journalist and editor who saw the bigger picture and who inspired and mentored a whole generation of football journalists.
"I congratulate Sonia, Mark and Andrew for this prestigious honour and thank them for their service."
Gegenhuber, Bresciano and Dettre were officially inducted into the FFA Hall of Fame at the Dolan Warren Awards in Sydney, which held at The Star.
FFA Hall of Fame 2018 Inductees
Sonia Gegenhuber - Player
Defender Sonia Gegenhuber is Matilda cap number 63 having played seventy-five (75) international matches for Australia in a career spanning 1989-99, including captaincy of the Matildas in 1998-99.
Born on 28 September 1970, in South Australia, Sonia started football at the age of ten though she also played tennis, netball and took part in athletics.
Sonia was determined to represent Australia at sport and at eighteen (18) played football against Japan in 1989 and gained national selection in the 1991 FIFA Women's World Cup qualifying matches against New Zealand and Papua New Guinea where she scored a goal from the backline.
From South Australia, she moved to Queensland where she played for Coalstars, Eastern Suburbs and QAS Sting. An athletic defender and good communicator, she was strong in the air and had the ability to overlap with the midfield making incisive runs forward. She played two matches in the 1995 FIFA Women's World Cup in Sweden.
In 2013, Football Federation Australia named Gegenhuber as part their women's team of the decade for the years 1990 to 1999. After her retirement from international football she concentrated on coaching, teaching and as a remedial massage therapist. She was a member of the Matildas staff on a tour of China in 2007, and coached and managed the Queensland schoolgirls football team from 2009-14.
Mark Bresciano - Player
Mark Bresciano was one of the midfield stars of Australia's 'Golden Generation' that qualified for the 2006 FIFA World Cup in Germany. It was his equalising goal against Uruguay in the final qualifying match that led to the dramatic and historic penalty shoot-out. In all he played 84 matches for Australia and was part of the squad which won the AFC Asian Cup 2015.
Born in Melbourne in February 1980, Mark played with Bulleen Lions in the Victorian Premier League making his senior debut in 1995.
In 1996, he represented the Australian Schoolboys and the following year joined the Australian Institute of Sport. He had two seasons with Carlton in the National Soccer League, helping the club to second place in the first of these.
In 1999, he signed for Empoli in Italy and helped the club win promotion to Serie A in his third season with the club.
In 2002, he moved to Parma where he was the top scoring midfielder in that hugely competitive league. He played with Parma in the UEFA Cup reaching the semi-final in 2005. From Parma he transferred to Palermo following Australia's FIFA World Cup campaign in 2006.
After Palermo, he had two seasons with Lazio before moving to the United Arab Emirates with Al-Nasr. From there he went to Al-Gharafa in Qatar where he completed his career. In all he played more than 400 senior club games and scored over 60 goals from midfield.
Bresciano represented Australia at youth levels and made his full international debut in 2001 against France. Bresciano played in all four of Australia's matches at the 2006 FIFA World Cup in Germany, the second and third group games at the 2010 FIFA World Cup in South Africa and in all three group games at the 2014 FIFA World Cup in Brazil.
He concluded his international career after the AFC Asian Cup triumph in 2015. He scored some spectacular goals for club and country but will best be remembered for his all-round contribution to the national team over fifteen years.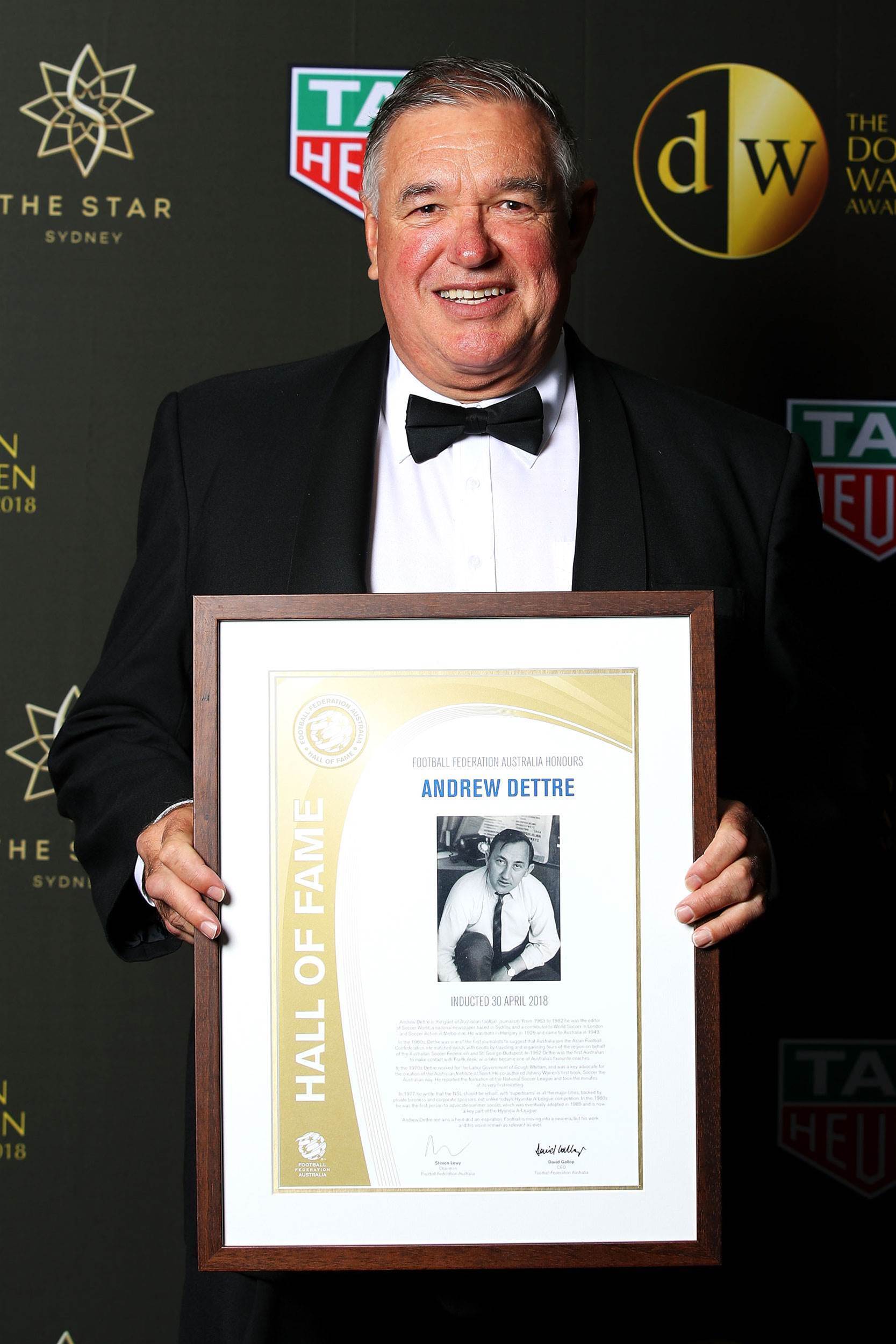 Andrew Dettre
Andrew Dettre - Media
Andrew Dettre is a giant of Australian football journalism. From 1963 to 1982 he was the editor of Soccer World, a national newspaper based in Sydney, and a contributor to World Soccer in London and Soccer Action in Melbourne. He was born in Hungary in 1926 and came to Australia in 1949.
In the 1960s, Dettre was one of the first journalists to suggest that Australia join the Asian Football Confederation (AFC). He matched words with deeds by traveling and organising tours of the region on behalf of the Australian Soccer Federation and St. George-Budapest. In 1962, Dettre was the first Australian to make contact with Frank Arok, who later became one of Australia's favourite coaches. 
In the 1970s Dettre worked for the Labor Government of Gough Whitlam, and was a key advocate for the creation of the Australian Institute of Sport (AIS). He co-authored Johnny Warren's first book, Soccer the Australian way.
He reported the formation of the National Soccer League and took the minutes at its very first meeting. In 1977 he wrote that the NSL should be rebuilt, with 'superteams' in all the major cities, backed by private business and corporate sponsors, not unlike today's Hyundai A-League competition.
In the 1980s he was the first person to advocate summer soccer, which was eventually adopted in 1989 and is now a key part of the Hyundai A-League. 
Andrew Dettre remains a hero and an inspiration. Football is moving into a new era, but his work and his vision remain as relevant as ever.