Being a women's football supporter you have seen it all so with it being Female Football Week, The Women's Game thought it would be fun to look at all the things supporter feel, see and have experienced.
1. When two W-League matches a week just isn't enough 
meanwhile 10 yrs into the w-league we have world class athletes putting on amazing performances, the standard has appeal for players around the world, and ffa are like "accessible live streams? never heard of them." *big sigh*

— Angela (@CaptainAngelo) February 7, 2018
​
being australian and paying for @FOXSportsAUS subscription but they won't even stream the games they have rights too @WLeague

— sophie (@auswnt) October 28, 2017
2. Commentators might just need a little bit more work on getting players' names right  
It's that #AlgarveCup time of year again. #LeVanna #Kellond

No Steph #Caytley today though. #AUSvNOR

— Anna Harrington 🏳️‍🌈 (@AnnaHarrington) February 28, 2018
Appreciate the commentator trying to distract us from the horrendous officiating earlier by dropping "Chloe Logizard"

— Nice Orange 🌈 (@AardigOranje) March 2, 2018
3. Twitter bombarded with "any livestreams?" before any match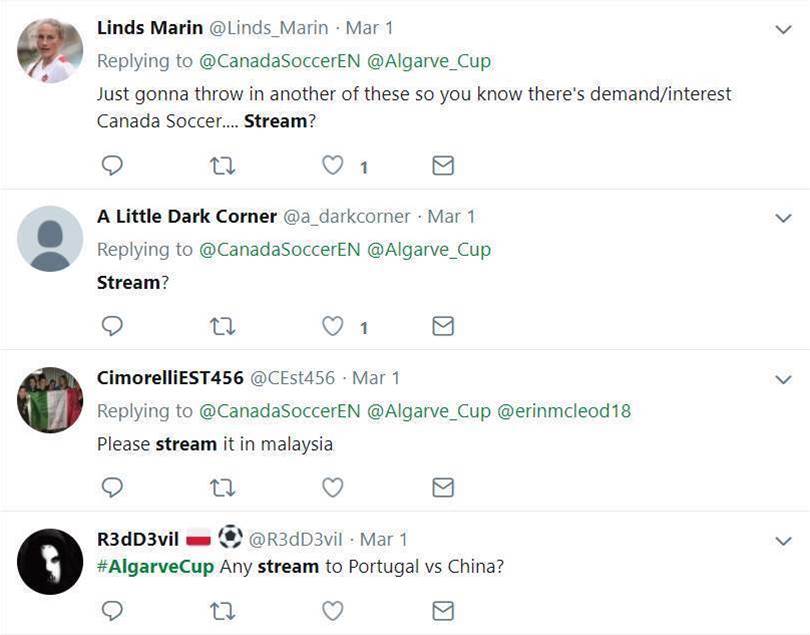 4. Being forced to wait for 1+ hour for the torrential rain to stop before they finally decided to postpone it 
There is just a tiny bit of water on the pitch in Rotterdam. #GERDEN #WEURO2017 pic.twitter.com/YBOGkvNxdP

— Ann Odong 🐨 (@AnnOdong) July 29, 2017
​
"Everybody now" #GERDEN #WEURO2017 pic.twitter.com/44n6b78pm6

— Ann Odong 🐨 (@AnnOdong) July 29, 2017
5. When people say "No one cares about woso" 
Daily: Nobody Cares About Women's Football- tweet #WEURO2017 #OranjeLeeuwinnen #Utrecht pic.twitter.com/XSuCUO2hes

— Mandy 🏳️‍🌈 (@mandy7n) August 7, 2017
CROWD | Thank you to the massive 16,829 in attendance tonight! Take a bow, Newcastle. #GoMatildas #AUSvBRA pic.twitter.com/LUL7D2O1gl

— Westfield Matildas (@TheMatildas) September 19, 2017
SOLD OUT | For first time in their history #Matildas have sold out a stand alone game. 17,000 tix for #AUSvBRA at Pepper Stadium on 16 Sept pic.twitter.com/jVhHqCLrS7

— Ann Odong 🐨 (@AnnOdong) September 3, 2017
6. When you get bowled over by an opponent but stand right back up like nothing happened 
One of my favourite things about the #wleague.

Strong contest. Get up. Play on. No drama. pic.twitter.com/iiPN7inbEb

— Ann Odong 🐨 (@AnnOdong) December 11, 2016
7. Being role models for kids, but especially young boys  
This photo is POWERFUL. The culture shift & recognition of female footballers.... young boys can aspire to play like Sam Kerr. I never thought I'd be able to say that. What a great capture @RachelBBach 👏🏽👏🏽👏🏽 pic.twitter.com/SR2xIFe67m

— Emily Salinas (@emilysalinas) November 23, 2017
​
These 3 boys just knocked on my door & asked for a game of park soccer. So dam cute 🤣 pic.twitter.com/KcN8aFT2Yf

— Sam Kerr (@samkerr1) January 5, 2018
​
Copyright ©The Women's Game All rights reserved.