After the sensational sacking of Matildas head coach Alen Stajcic on Saturday, thoughts have now turned to who could replace him.
With the Cup of Nations friendly tournament due to kick off in late February, FFA's CEO David Gallop and Chairman Chris Nikou indicated in yesterday's press conference that a coach will need to be found as soon as possible to lead the Matildas through those games.
Whether or not this coach will then stay on for the Women's World Cup in June this year, and then the Tokyo Olympics in 2020, is unknown.
There are a number of local and international names that are being bandied about for the top job, with pros and cons to each.
We've drawn up a list of the coaches currently working within the W-League or have worked within the W-League recently, as well as coaches who have been involved with the Matildas set-up in various ways.
Gary Van Egmond
Van Egmond is the natural successor to Alen Stajcic, having been the Matildas assistant coach since 2015. As such, he is perfectly placed to carry the team into the upcoming tournaments with little disruption to style, tactics, or player roster. A former player himself (including Socceroos caps) and A-League manager of the Newcastle Jets, Van Egmond is familiar with major competitions at both national and international level. However, Van Egmond's role in the Stajcic saga remains unclear – whether he will be asked to step aside as a result of continued investigations by FFA will clearly affect his chances at heading the Matildas.
Melissa Andreatta
Mel Andreatta has been the head coach of the Brisbane Roar W-League team since 2016, leading them to a Premiership in the 2017-18 season. She has also been involved in the Matildas set-up for several years, at first as assistant coach of the Junior Matildas, and then being invited to assist the senior Matildas as a technical analyst at the 2016 Rio Olympics through the FFA Female Coach Mentor Program. Andreatta's familiarity with the W-League and Junior Matildas programs is a big bonus in terms of taking over the team on a long-term basis, as this is the crop of players from which the next generation of senior Matildas will be found. Saying that, her relative lack of experience coaching at senior international level could be a risky move so close to the Women's World Cup.
Rae Dower
Dower is the current head coach of the Australian u-17 women's side, the Junior Matildas, having been appointed in 2017. Prior to this, Dower was the assistant coach and then head coach of W-League team Canberra United from 2014-2017, helping United to a Championship and a Premiership across her three years. Dower is still heavily involved in the W-League as a match-day commentator and analyst, and acts in a coaching mentor capacity for Football Queensland. Dower's experience at both national and international level, as well as being chosen for various leadership and coaching conferences in Australia and overseas, suggests she is on FFA's radar for taking over the senior Matildas gig sometime in the future. Whether or not Dower and the FFA are ready for that move to happen so soon is another matter entirely, as she is yet to have experience assisting or coaching a senior international women's side.
Heather Garriock
Former Matilda Heather Garriock is the current head coach of Canberra United in the W-League, having taken over in 2017. Not only is Garriock very familiar with the W-League through her playing and coaching careers, she has also been part of the Matildas set-up from both ends: she has 130 caps to her name and, after retiring, assisted the team during the 2017 Algarve Cup. Garriock's refreshing energy and knowledge of young players in Australia could be particularly useful for a Matildas head coach moving forward. However, Garriock has only been coaching since 2014, and that inexperience at both national and international level may not be enough for a senior Matildas head coaching role just yet.
Jeff Hopkins
Jeff Hopkins is the current head coach of W-League side Melbourne Victory. Prior to this, he was the head coach of the Brisbane Roar women's side (and assistant of the men's side), winning the first W-League Premiership-Championship double, followed by another Championship the next season. Not only is Hopkins knowledgeable of the players coming through the W-League, but he also has international experience as a player, making several appearances for Wales. His lack of international coaching experience, though, is apparent; whether Hopkins can translate his domestic success into international success is a big question that FFA may need answered (in an interim capacity, perhaps?) before a long-term appointment.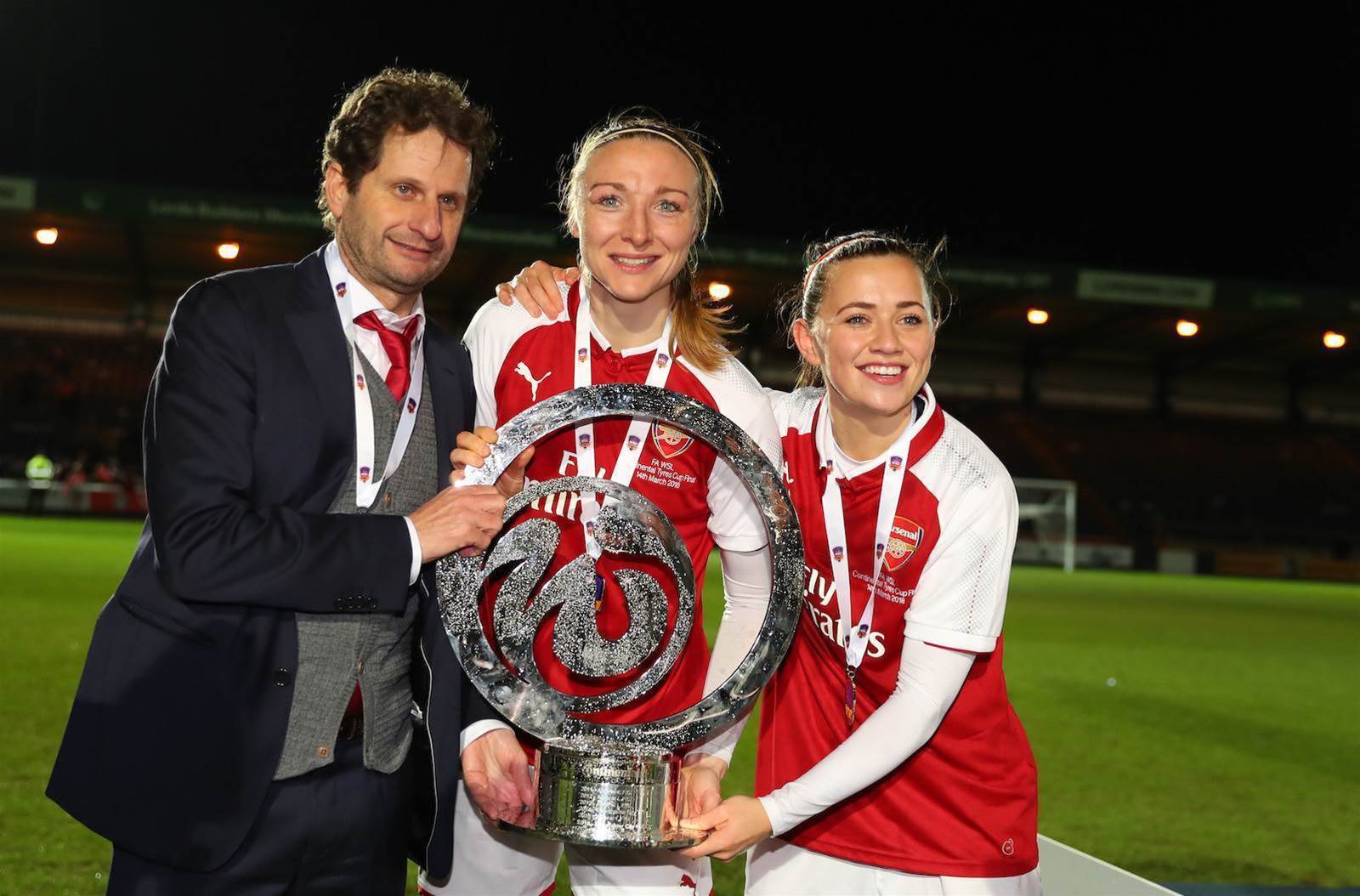 Joe Montemurro
Joe Montemurro has been the head coach of Arsenal in the FA Women's Super League since 2017. This is Montemurro's first overseas appointment, having played and coached exclusively in Australia previously. He made a name for himself on the women's football scene when he was hired as the head coach of Melbourne Victory's W-League side in 2014, guiding them to second place in his first season, the highest in the club's history. Following a stint with cross-town rivals Melbourne City's youth team, he then became the head coach of City's inaugural W-League team in 2015-16, where they went undefeated and won the Premiership-Championship double in his first season. Montemurro's City then repeated the double the following season. He has already found success at Arsenal, winning the Continental League Cup Final over Manchester City, and leading them to the FA Women's Cup final. Montemurro's familiarity with players in both the W-League and FA Women's Super League will be handy for a potential Matildas head coach. However, like Hopkins, he has no international coaching experience, and whether he would be likely to leave such a prestigious position with Arsenal is also questionable.
Ante Juric
Juric is a former Socceroo and has been involved with Sydney FC's W-League team since 2008, first as an assistant and then taking over as head coach in 2017. Sydney FC have made the finals of the W-League every year that Juric has been part of the set-up. He also has experience coaching at international level: he was the head coach of Australia's u-13s side, the Junior Socceroos, in 2009, and has had stints as the head coach of Australia's u-17s and u-19s women's teams. While Juric does not have experience coaching at senior international level, he has coached several former and current Matildas through his work at Sydney FC. However, like Hopkins and Montemurro, that lack of senior international experience might be an issue.
There are undoubtedly more local candidates who are interested or worth considering in this list, but these are the most likely leading names.
Watch out for part two where we look at some of the left field and overseas contenders for the key World Cup role...
Copyright ©The Women's Game All rights reserved.