Four second-half goals, including a four-minute hat-trick by Kanjana Sungngoen, have helped Thailand down the Young Matildas 4-2 in the AFF Women's Championship.
ANALYSIS
AUSTRALIA — In Possession
While Australia played in an attacking formation against Cambodia, it was unsurprising to see Leah Blayney temper her team's offence against Thailand. This meant Australia played in a 1-4-3-3, with the Taylor Ray playing as a single pivot behind Amy Sayer and Chidiac.
From the outset, Crummer's long, diagonal balls to Ibini suggested Blayney may have identified Thailand's right-back as the weakest link — or, alternatively, perceived Ibini to be the team's most likely outlet to create chances. Regardless of the reasoning, the intended end result did not materialise. Australia persisted with this on several occasions throughout the first half and limited its use in the second.
When building out from the back, Australia's left- and right-backs — Courtney Nevin and Karly Roestbakken — as well as single pivot, Ray, began higher than the defensive line to attract Thailand's markers (which changed following Nevin's first-half injury). This created a hole in the middle of the field, which gave Australia two advantages:
1. Should Thailand's defenders man-mark, Australia's centre-backs could carry the ball into the hole and towards halfway, giving them a higher chance of success when playing straight or diagonal balls over the top or to feet.
2. Should Thailand's defenders zonally defend the hole, it would leave Ray and or her fellow midfielder/s free to receive the ball facing forward, and therefore run onto Thailand's defence.
Initially, Thailand played Australia's bluff and kept the space free. While this gifted Crummer the chance to play long balls, it did not yield the success Blayney's Young Matildas would have hoped for. There were moments when Ray would drop into the space to receive the ball, and this added fluidity to Australia's attack. It should be noted Ray replaced Bethany Gordon who controlled the previous game against Cambodia.
THAILAND — In Possession
Thailand fielded more than half of their Asian Cup team but generally struggled to retain possession, and their forward passes were only successful in counter-attacking situations. In possession, they played a 1-4-3-3, though this could also be perceived as a 1-4-4-2, as the shape depended on how quickly their wingers could link up with the front two.
Thailand's counterattacks provided striker Kanjana Sungngoen with many one-on-one opportunities against Australia's left-back throughout the first half. This was due to two reasons:
1. Left-back Nevin often pushed up high beyond her midfielders to join in on the attack, thus making her unable to recover quickly in defence.
2. Thailand identified Sungngoen as their main outlet, often playing the ball immediately to her in transition.
Sungngoen's pace off the ball, and acceleration in possession, would cause Australia problems throughout the match, even after Roestbakken played in a deeper left-back position.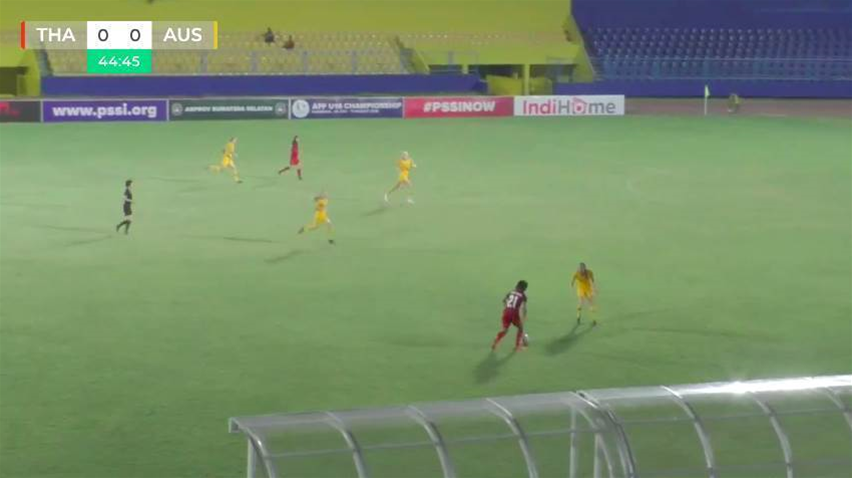 AUSTRALIA — Out of Possession
Australia appeared to play a high line throughout the game, though their pressing was not as aggressive as against Cambodia. This may have been because they did not want to create pockets of space in which Thailand's midfielders could receive the ball unmarked. Initially this high line, coupled with zonal- and man-marking, was successful as Thailand turned over the ball either through stray long balls, or intercepted passes by Australia's midfielders.
In the second half though, Thailand's Intamee often found herself in between the lines of Australia's centre-backs and pivot, giving her the chance to play forward. Three of Thailand's goals came as a result of midfielders, situated between the lines, afforded the opportunity to play balls through — and behind — Australia's defence.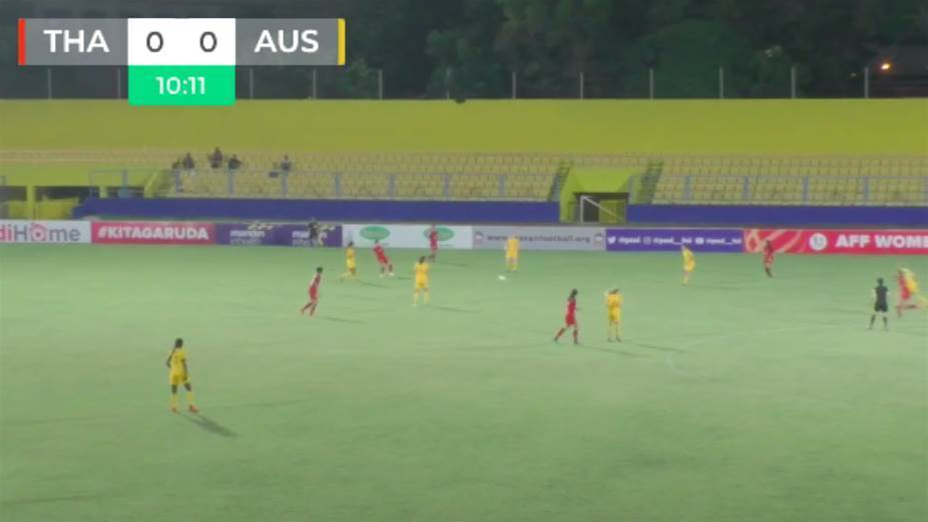 THAILAND — Out of Possession
As mentioned earlier, Thailand sat back in a 1-4-4-2 formation, which encouraged Australia to play wide — or, alternatively, prevented Australia from playing through the middle. Thailand's two forwards patrolled the middle channel and denied Sayer and Chidiac the opportunity to face forward, thus forcing them to play wide.
CONCLUSION 
Thailand played in a similar fashion the Asian Cup, while the Young Matildas mirrored the Matildas' playing style, sans key personnel. Blayney will have to consider fine-tuning her girls' attack for the semi-finals, as the Young Matildas couldn't penetrate their biggest defensive test of the tournament.
Copyright ©The Women's Game All rights reserved.