Perth Glory pick up their first win of the season in a 4-2 goal fest against the Newcastle Jets
Hana Lowry is a young gun
The Junior Matildas' superstar made her starting debut for Perth Glory tonight, and she certainly didn't disappoint.
The youngster played with an air of confidence beyond her years, shooting from distance and taking her chances at every opportunity.
After only 22 minutes, the debuting Lowry had her name on the scoresheet, becoming the fifth youngest player to score on starting debut in the W-League.  
She was left unmarked in prime position in the box, and Crystal Thomas sent a perfect corner straight to the 16-year-old.
Lowry made no mistake of heading the ball into the top corner, with the power and precision of a player who'd done it a thousand times before.
After such a dominant and confident performance, we're sure to see a lot more of Lowry for the remainder of this season and many seasons yet to come!
great corner and a bullet header from Hana Lowry! she's started this game with a lot of confidence, I feel like this goal will be the first of many in the #WLeague#NEWvPER

— Eric Subijano (@eric_subijano) January 23, 2020
Perth are picking up points
After a few recent draws, Perth have now finally won their first game of the season.
Their dominant performance away from home ended in a 4-2 triumph, the most goals they've scored in a game so far this season.
The Glory dominated from early on and were able to score after only 22 minutes through a Hana Lowry header, and then again just before half-time from a penalty taken cleanly by Morgan Andrews.
Their third goal came from Glory's top goal scorer Caitlin Doeglas and the fourth from Celia almost 25 yards out. 
Newcastle Jets were unbeaten against the Glory in their past seven meetings, but tonight was a different story. Although Newcastle had their periods of dominance and scored two outstanding goals, Perth were the team that came away with the three points. 
Perth's most comprehensive performance this season resulted in the Glory jumping ahead of Newcastle into seventh place with five points to their name. 
Although finals football is out of the question for Perth, tonight proved that they're able to play some quality football and score some banging goals.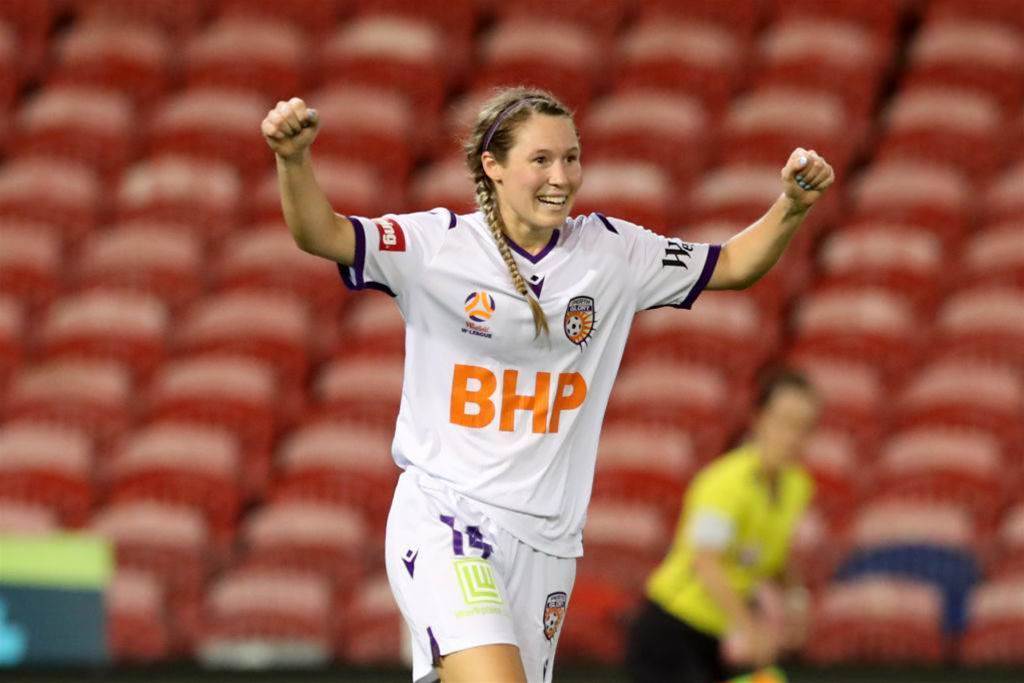 Fresh faces are good for the league
With neither Newcastle nor Perth able to make finals, today's game was the perfect opportunity for the coaches to blood some fresh faces.
Both Hana Lowry and Morgan Aquino made their starting debuts for the Glory.
At 16-years old, Junior Matilda Lowry scored Perth's first goal and her first in the W-League.
Goalkeeper Aquino also joined the starting 11 for the first time. After replacing Eliza Campbell last week, the youngster once again took the field whilst Campbell is out with concussion.   
The Junior Matildas goalkeeper Ruby Jones was also added to the squad list as a back-up goalkeeper for Aquino.  
But Perth weren't the only side with debuting players.
Newcastle also pushed Lauren Allan into the starting 11 for first time this season, blasting the ball into the top of the net to score the Jets second goal.
Sophie Nenadovic and Renee Pountney were on the bench for first time too, with both players getting some time on the field late in the second half. 
Although a lot of prized Australian players have recently announced their departures from playing in the W-League, it isn't all bad – it gives other players a chance to step up and allows the league to create the superstars of tomorrow.
Just look at tonight's match!
Super exciting to see Hana Lowry get her starting debut! 😍 #WLeague #NEWvPER https://t.co/ssyHcUEd5B

— ShePlays Fantasy League (@sheplays_au) January 23, 2020
Copyright ©The Women's Game All rights reserved.